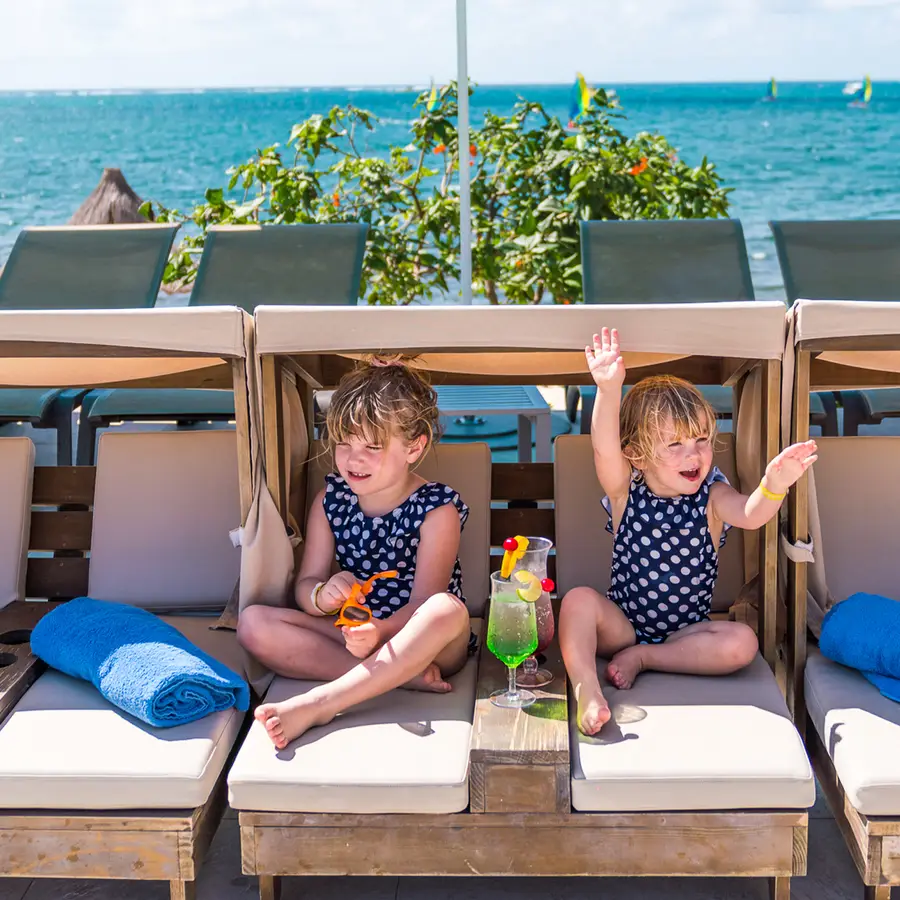 Little ones deserve big holidays
and you, the utmost in serenity
Starting with Petit Club Med® during the day and ending with the Pyjamas Club® childcare service at night, with a lunch break adapted to their nutritional needs at the Baby Restaurant in between, we do all we can to ensure the little ones enjoy their stay as much as their parents do. This is the perfect time to sit back and relax as you watch your child blossom.
For more information on the activities and services (included and at an extra charge) offered by each Village, as well as their availability dates, refer directly to the page of the Village you are interested in.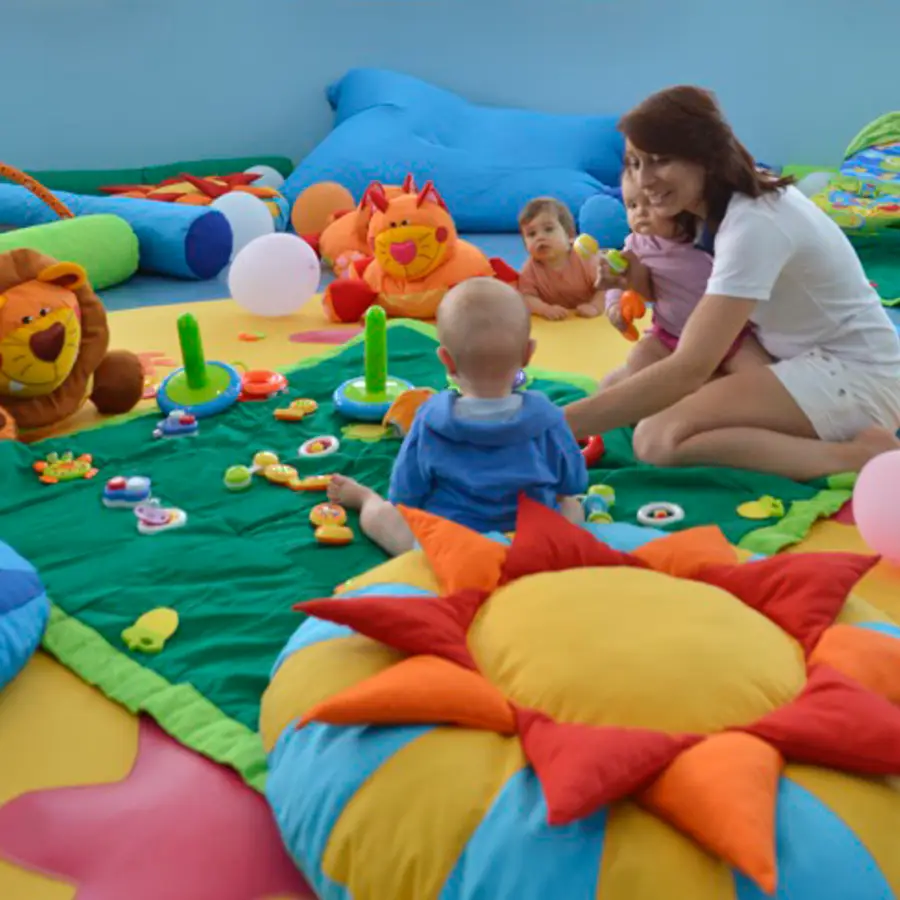 Where they can discover the world and learn about others
We've created a Club Med especially for our smaller guests so they can have just as much fun as their parents! Called "Petit Club Med®", it offers children aged 2-3 age-appropriate activities featuring sports, crafts, expression, and games. Supervised by our dedicated G.Os®, they'll have the chance to discover sporting activities, masquerade games, and even take part in a show…
Children have fun, learn confidence, and open their minds to others in an environment designed exclusively for them.
Petit Club Med® is available for an additional charge to your all-inclusive package in a number of Villages.
Familiar with the Baby Gym?
on offer: games and motor skills
Let's get to it! An escapade around the mini-trampoline, then it's off to the play mat and its contrasting textures...Nothing beats a fun and colourful motor function technique for learning coordination and balance, finding one's bearings, understanding how to handle obstacles, and becoming conscious of one's body. This is the principle behind the Baby Gym, an activity designed especially for toddlers' developing motor skills. Included in your package, it is also offered as part of the Petit Club Med® activities.
Tiny taste buds become great ones
we take as much care in preparing their meals as we do your own
Less salt, a mix of textures, a healthy balance (and no fish bones): our chefs take the specific needs and likings of children into consideration. And as for the time and place, that's entirely up to you:
- The Baby-Corner: a corner buffet designed for our smallest guests with fresh dishes or ingredients you can mix yourself; featuring a blender, bottle warmer, and microwave…
- The Baby Restaurant: a location and menu created just for kids. Foodies in the making discover culinary delights with their parents or the Petit Club Med® G.Os®.
- The "Biberonneries": a steriliser, bottle warmer, microwave, mineral water, small jars…Here you'll find all you need to prepare your baby's dishes, both day and night.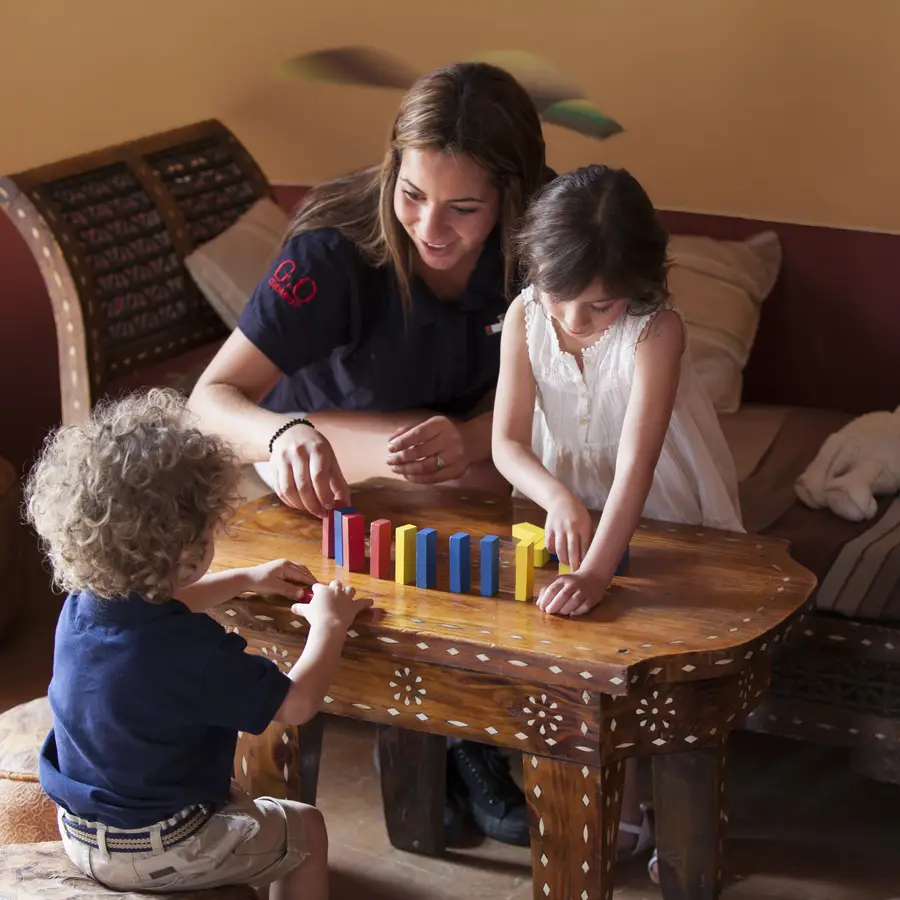 We're there for you, day and night
As parents, we sometimes want to spend some time without the kids, such as on a night out made just for two. You can choose between two different childcare options, depending on your Village:
- The "Pyjamas Club®": collective childcare organised by qualified G.O®s between 7 and 11 p.m. Gentle activities, a peaceful setting: everything is done to help the little ones get ready for a good night's sleep. Offered in a variety of Villages, the Pyjamas Club® is not included in the all-inclusive package.
- Individual babysitting: during the day; or for even more personalised care, you can also reserve our babysitting service à la carte.
The Pyjamas Club® and babysitting are not included in the all-inclusive package.