Remaining faithful to its values and reinventing holidays to bring you happiness
"The aim in life is to be happy and the time to be happy is now"* Now present over five continents, Club Med first saw the light of day in 1950 and was the result of a pioneering idea: holidays offering sport, an experience of the natural world and the great outdoors, all in a relaxed informal ambiance. Come and stay in one of the Club Med Resorts. These unique places, established in amazing locations, not only combine accommodation and restaurants, but also a whole host of events, entertainment, sports and well-being activities. The Chef de Village, like the conductor of an orchestra, organises the life of the Resort and infuses it with a heart and soul, with the help of the Gentils Organisateurs G.Os® and their "crazy signs". Freedom, confidence building, friendliness, multiculturalism, kindness: the Gentils Membres G.Ms® discover the values of Club Med. The supervision of children from 4 to 17 years of age, leisure activities and even the restaurants are included in the cost of your holiday. Unique of their kind, these signature services make your life even more enjoyable. Discover new interests with group classes in tennis, golf and water sports. Challenge yourself with unusual activities like the flying trapeze, and return home with much more than memories. *Quotation by Gérard Blitz, founder of Club Med.
Your experience
A story of deep-rooted happiness
Club Med (originally Club Méditerranée) was founded in 1950, in Alcùdia, a tiny fishing village in the Balearic Islands off the coast of Spain Its founder, Gérard Blitz, soon joined by Gilbert Trigano, a manufacturer of tent canvas, had the pioneering idea of setting up a tented Village for sporty holidays in natural outdoor surroundings, with no restrictions. "The aim in life is to be happy and the time to be happy is now": these words of Gérard Blitz had a resonance in the post-war period. In that first summer, the Village welcomed more than 2,000 holidaymakers, supported by 20 G.Os® (Gentils Organisateurs), dedicated to their entertainment and supervision. Success was guaranteed.
Discover the founder of Club Med
Club Med: the "all-inclusive" venture founded on values of freedom and friendship
From the very start of Club Med, Gérard Blitz and Gilbert Trigano put the emphasis on freedom and friendship: holidaymakers took their meals together around 8-seater tables with no formalities. Every Gentil Membre (G.M®) was enriched by their contact with nature, sports and with others, guided by the Gentils Organisateurs (G.Os®). In 1957, the "Junior" Village was created to offer children the chance to develop through cultural and sporting activities. In the same year, still faithful to the spirit of freedom and friendship, the bar necklace made its appearance and became a currency to buy things without having to carry cash around. In 1967, buffet meals made their appearance: holidaymakers were free to create their own menus from a wide variety of dishes. With this new way of living together and original style of holiday, Club Med invented the "all-inclusive" package.
Club Med on the way to development: heading for new horizons
Flushed with this success, Club Med increased the number of Villages and developed them: tents were replaced by huts, as in the Corfu village in 1952. Club Med began developing beyond Europe: Djerba in 1954, Tahiti in 1955, au Morocco in 1961, Agadir in 1965. Then, its conquest of new paradises continued with the West Indies being added to the list of destinations: to Guadeloupe first, in 1968, then Martinique in the following year, on Les Boucaniers beach. In parallel, Club Med began offering winter sports, opening a Village in Leysin in Switzerland in 1956 and in Bear Valley, USA in 1968, confirming its worldwide expansion. In the early seventies, Club Med had 28 Villages spread across 4 continents. Since 1980, the Trident (Ψ) has been the official Club Med logo and is used to rank the level of services in different Villages (classified on a scale from 3 to 4 Tridents). In 1989, Club Med diversified its offer by launching its first floating Village: the Club Med 1, the biggest cruise liner in the world.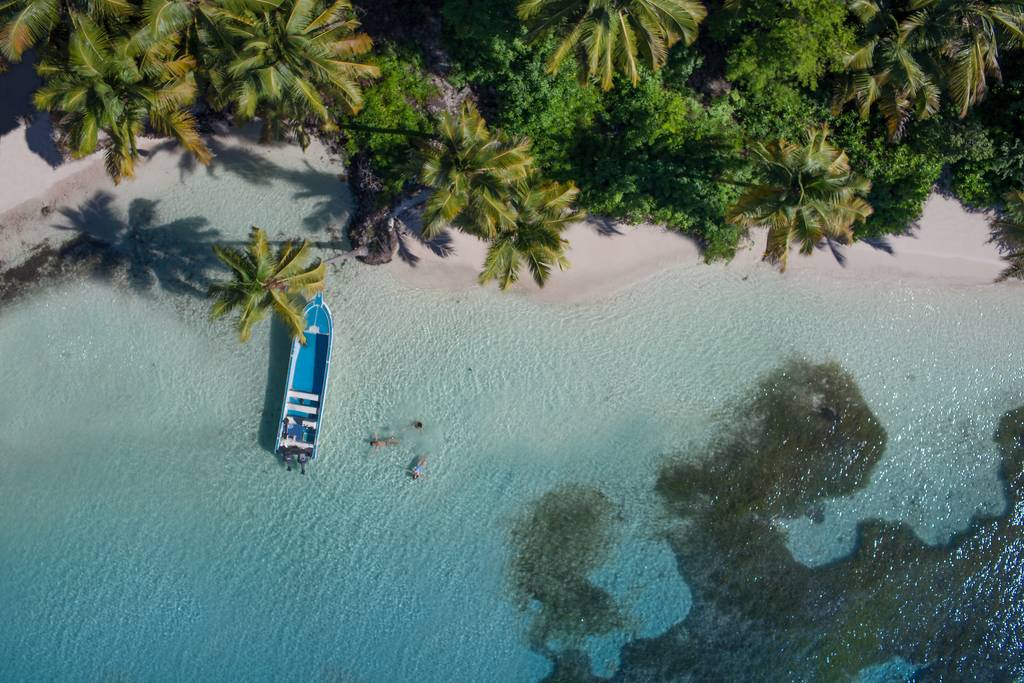 Towards a more high-end concept: Club Med reinvented
As the pioneer of the all-inclusive holiday, Club Med has always invited holidaymakers to enjoy everything and worry about nothing. Over the years, the formula remained the same and its international expansion continued. Being ever attentive to the requirements of its clientele and changes in patterns of consumption, in 2004, Club Med decided to reposition itself at the higher end of the market in terms of design, ambiance and lifestyle, whilst remaining true to its values and the concept of the all-inclusive holiday. Renovation and upgrading of Resorts to 4-5 Ψ, creation of the Exclusive Collection 5 Ψ range: Club Med began offering a new, more high-end style of holiday, whilst retaining its pioneering values of informality and multiculturalism. And promised G.Ms® that they would experience holidays that were all about thrills, emotions and discovery of other cultures. As demonstrated in the advertising campaign "Let us amaze you", with the strapline "Come back with much more than memories".
Today, Club Med has nearly 80 Resorts (classified on a scale ranging from 3 to 5 Ψ) spread across 30 countries, organised by G.Os® and Chefs de Villages of around a hundred different nationalities, who embody the values of Club Med and ensure the happiness of the G.Ms®.
Related articles
Club Med: The number 45, a T-shirt, a symbol
For nearly 25 years, the 45 T-shirt has been uniting G.Ms® around events, values and happy memories.
Explore